About the Filmmakers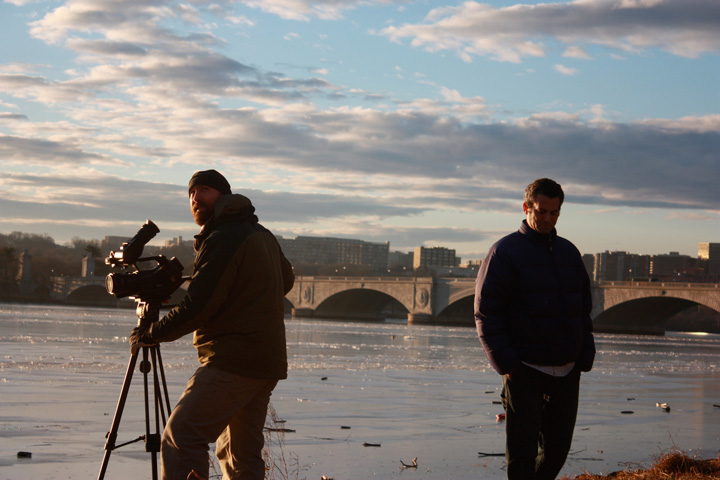 Ken Winikur | Producer, Director
Winikur is a U.S. based documentary filmmaker who has spent extensive time living in Israel. In 2004 Winikur completed BET HERUT the end of the beginning.
Through the investigation of the tragic murder/suicide on a communal farming village, the demise of the larger socialist movement in Israel is examined. Winikur received a Fulbright Grant to research and shoot BET HERUT, which has played at a number of film festivals worldwide and is now distributed by the Cinema Guild Inc.
Ben Avishai | Producer, Director
Avishai has written and produced award-winning projects that have been broadcast on national television, installed in major museums and streamed on the web. He produced and directed a film about Israelis and Palestinians in a bar in Jerusalem, and he wrote and produced the core films for the Illinois Holocaust Museum and Education Center. Ben was born in Jerusalem, was raised in the U.S., and has been steeped in the politics of Israel from a young age.
Andrew Kukura | Editor
Andrew Kukura is a documentary editor with 13 years professional experience in both long-format and broadcast work. Andrew co-directed and edited The Dhamma Brothers, a feature-length documentary about an experimental treatment program at a maximum-security prison in Bessemer, Alabama. The film follows the lives of four prisoners who engaged in an intensive program of Vipassana Meditation over a four-year period. The film was profiled in the New York Times, NPR and was featured as part of Oprah Winfrey's Soul Series. The Dhamma Brothers has received numerous awards and enjoyed a successful theatrical run. It has been distributed on PBS and broadcast internationally.
Tim Raycroft | Editor
Tim Raycroft has been editing documentaries for 13 years. His body of award-winning work includes broadcast, museum, and independent productions. In 2008 Tim completed work on Johnny Cash at Folsom Prison, an account of the country music legend's seminal concert, which aired on PBS and at over 40 international festivals. Tim recently edited and co-produced another PBS production Give Me the Banjo, a historical investigation of the instrument on American popular music narrated by Steve Martin. Tim is drawn to projects with strong story and character, and welcomes the challenge of drawing out and crafting the narrative structure.
Bernard Avishai | Advisor
A Guggenheim Fellow, Avishai holds a doctorate in political economy from the University of Toronto. A noted thinker about Israel, he's written dozens of articles and commentaries for The New Yorker, The New York Review of Books, Harvard Business Review, Harper's and many other publications. He is the author of three books on Israel, including the widely read, "The Tragedy of Zionism," and the recently published "The Hebrew Republic."